Class B Infectious Diseases are reported to the local Public Health jurisdiction of residence of the patient.  To report a Class B Infectious Disease to the Ashtabula County Health Department:
Call 440-576-6010, option 2, or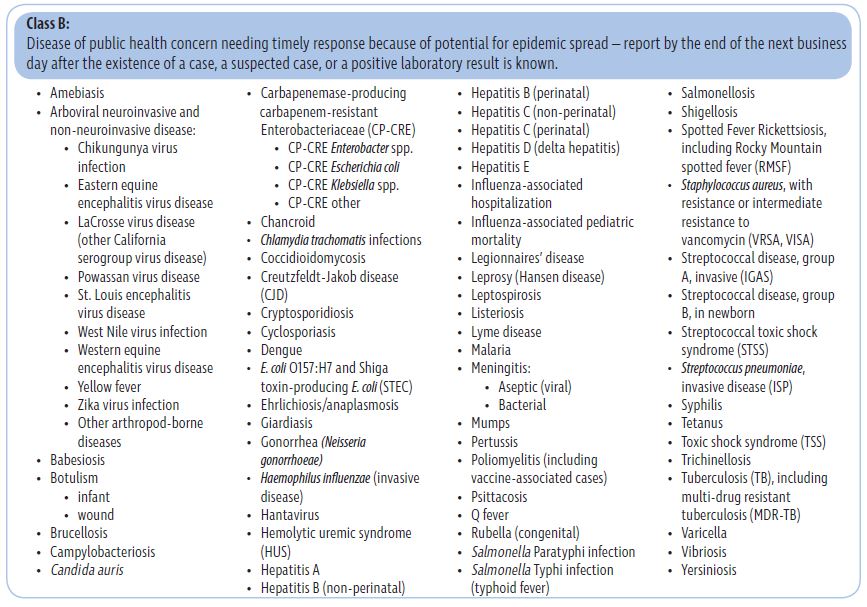 These are Class B Infectious Diseases:
Arboviral neuroinvasive and non-neuroinvasive disease, such as:
Chikungunya virus infection
Eastern equine encephalitis virus disease
Lacrosse virus disease (other California serogroup virus disease)
Powassan virus disease
St. Louis encephalitis virus disease
Zika virus infection
–West Nile virus infection
–Western Equine encephalitis virus disease
–Yellow fever
Other arthropod-borne diseases
Carbapenemase-Producing Carbapenem-Resistant Enterobacteriaceae (CP-CRE)
CP-CRE Enterobacter spp.
CP-CRE Escherichia coli.
CP-CRE Klebsiella spp.
CP-CRE Other.
Chlamydia trachomatis infections
Creutzfeldt-Jakob disease (CJD)
E. coli 0157:H7 and Shiga toxin-producing E. coli (STEC)

Gonorrhea (Neisseria gonorrhoeae)
Haemophilus influenzae (invasive disease)
Hemolytic uremic syndrome (HUS)
Hepatitis D (delta hepatitis)
Influenza-associated hospitalization
Influenza-associated pediatric mortality
Legionellosis (Legionnaires' disease)
Leprosy (Hansen disease)
Salmonella Paratyphi infection (a typhoid fever)
Salmonella Typhi infection (typhoid fever)
Spotted Fever Rickettsiosis, including Rocky Mountain spotted fever (RMSF)
Staphylococcus aureus, Vancomycin Intermediate/Resistant (VISA/VRSA )
Streptococcal disease, group A, invasive
Streptococcal disease, group B, in newborn
Streptococcal toxic shock syndrome (STSS)
Streptococcus pneumoniae, Invasive Disease
Tuberculosis (TB)or Multi-Drug Resistant TB (MDR-TB)
NOTE:
Cases of AIDS (acquired immune deficiency syndrome), AIDS-related conditions, HIV (human immunodeficiency virus) infection, perinatal exposure to HIV, all CD4 T-lymphocyte counts and all tests used to diagnose HIV must be reported on forms and in a manner prescribed by the Director, Ohio Department of Health.